Arta is an ancient town atop a hill that provides a distinct arty and Bohemian ambience.
With the dramatic Sierra de Llevant mountains as a backdrop, it's all delightful tree-lined avenues and narrow, windy lanes.
We recommend
Take a look at this selection of fantastic villas
Luxury villa rentals in Arta, Mallorca
There are some special archaeological sites to enjoy too, and the naturally beautiful Caves of Arta are a must. Whether it's a cool, contemporary villa, a traditional sun-bleached Arta townhouse or a cosy, modern apartment, we have a variety of rental accommodation options for you to choose from. You are sure to find your ideal holiday home from home here at a good value price.
If you enjoy the outdoor life Arta is the perfect rented holiday destination. Both golf and tennis enthusiasts in particular are well catered for and there are places that rent out bicycles.
If equine pursuits appeal, you could go horseriding in the beautiful Mallorcan countryside, or take to the sea by renting a boat in nearby Colonia St Pere.
Just imagine…
You've arrived in the lovely old town of Arta late in the afternoon and the sun is shining. You unpack, take a quick look around your rented villa, and it's time to relax after your journey. So you gather friends and family round to share a few tasty nibbles. After a pleasant siesta, it's time to explore all Arta has to offer. As the sun begins to set you take a stroll around the tree-lined avenues and ancient narrow streets taking in the delightful artisan shops before stopping for a refreshing beer in one of the small café-bars.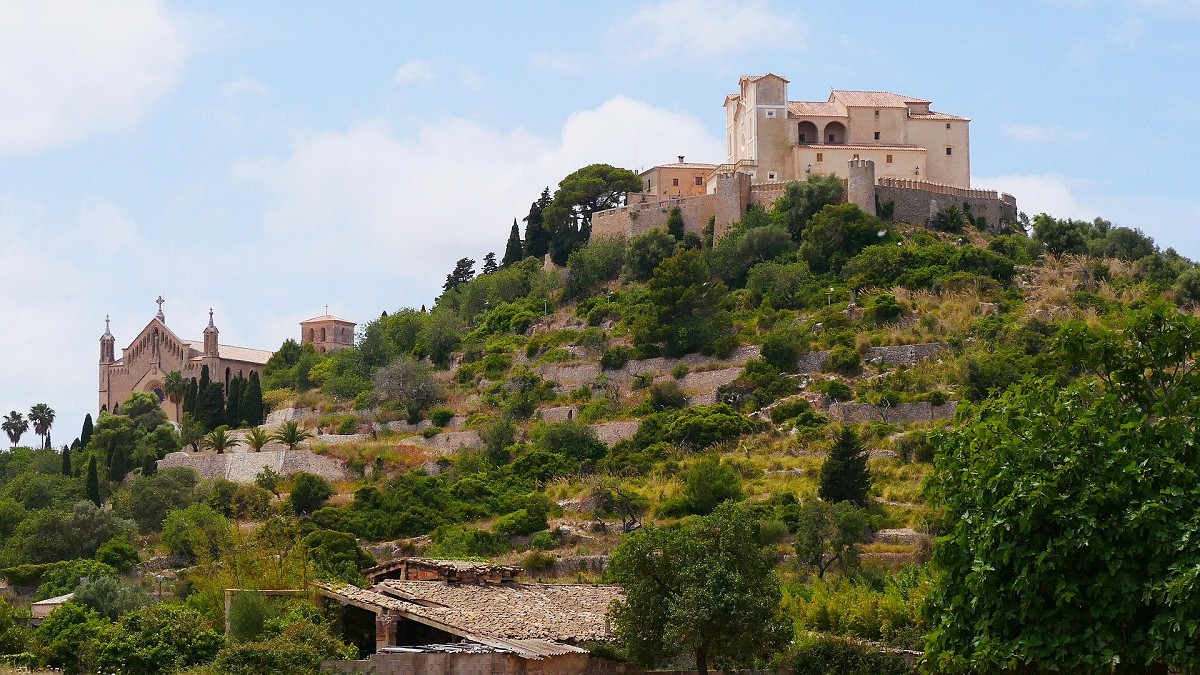 Feeling a little peckish, you settle on one of the delightful bohemian restaurants Arta is renowned for. Mediterranean cuisine appears to be the order of the day here, so you choose something tasty and traditional such as Frito Mallorcan from the menu, as well as a bottle of local wine to compliment.
After a post-prandial digestif you make your way home to your holiday villa in the barmy evening light. It's been a busy first day in Arta and you sleep like a log. Because tomorrow your real holiday begins!
How to get to Arta
Even though Arta is about 70km away from Palma and Son Sant Joan International Airport, there are good major road links to the capital and airport. Pleasingly the Ma-15 road from the airport takes you virtually all the way from Palma to Arta.
From the airport, initially take the Ma-19 heading west towards Palma. Turn of at exit 6 onto the Ma-30 in the direction of Inca. Take the first exit at the roundabout onto the Ma-15 and follow this road all the way to Arta. The journey by hire car or taxi should take about one hour.
Once here, regular buses ferry you to Palma, Cala Rajada, Capdepera, Playa Canyamel and Manacor train station where you can catch one of the island's fast, efficient trains.
It should be said that the beautiful historic town of Arta really is best discovered on foot. All the best sights of this lovely old town are all within easy walking distance. The town has a real bohemian vibe and many artists reside here.
A stroll around the ancient town checking out the heritage sights, café-bars, restaurants and arty venues is one of the most pleasant aspects of your holiday here in Arta.
So whether you're looking to rent a fabulous holiday villa for family and friends, a traditional stone townhouse, or a chic, contemporary apartment for a well-earned romantic break, we at Balearic Villas would be happy to help you find your dream rental property in the Arta area of Mallorca.
One thing's for sure, as soon as you arrive at your holiday rental accommodation in Arta you'll immediately want to explore this beautiful town!