Alcudia is a beautiful historic town in the north of Mallorca.The best holiday villas in Alcudia
If you're looking for a holiday villas to rent in Alcudia, then the team at Balearic Villas have all the local knowledge, and fantastic properties, you could ever need. They will carefully select your luxury villa to perfectly match your holiday requirements.
We recommend
Take a look at this selection of fantastic villas
Luxury villa rentals in Alcudia Mallorca
Alcudia is a beautiful historic town in the north of Mallorca. At Balearic-villas.com have a superb choice of holiday villas and apartments available to rent here at a wide range of prices. Here's a guide to some of the sights and sounds of Alcudia to help you make the most of your dream rental holiday.
Medieval Alcudia – fortified gates and ancient stone walls surrounding the old town, cobbled streets and gorgeous squares. Perfect for a pleasant stroll on a warm afternoon.
Platja d'Alcudia – nearby 14-kilometer sandy beach stretching all the way to Ca'n Picafort. Great for watersports. Visit a balneario or two, the resort's popular seafront bars and cafes.
Open-air market – Held twice a week around the cobbled streets of the old town, Alcudia hosts one of Mallorca's largest open-air markets. Great for bargain hunters!
Town Hall – highlights of this fabulous seventeenth century structure include a beautiful balcony and imposing bell tower.
Tourist Office – jazzy new building on the side of Alcudia's ring road. Open all year.
Cycling Heaven – Alcudia is a great place to rent a holiday property if you want to explore the beautiful (and challenging) Tramuntana Mountains by bike. You might bump into Sir Bradley Wiggins!
Placa Constitucio – delightful central town square brimming with lively pavement cafes.
Pollentia – remains of the old Roman town dating from1st century BC. Once the Roman capital of the whole island of Mallorca.
Teatre Roma – remains of the Roman open-air amphitheatre carved out of the rocky hillside.
Parc Natural de S'Albufera – just a short distance from Alcudia lies this renowned nature reserve. Particularly popular with 'twitchers' (bird watchers.)
Ermita de la Victoria – a 17th century fortress-like church on top of a hill a couple of miles outside town. Spectacular views overlooking the Bay of Alcudia and a popular meeting place for hikers.
Fundacio Yannick i Ben Jakober – a modernist art gallery opened in the 1970s. The gallery features children's portraits painted over the centuries and gardens displaying modern sculptures.
Puerto Alcudia – Alcudia's nearby port and pretty beach resort full of lively café-bars.
Your perfect holiday accommodation in Alcudia
The ancient Mallorcan town of Alcudia has always been a popular place to spend a fascinating family holiday in a rented villa, townhouse or apartment. It's such a pretty little place too, particularly the old town with its cobbled streets, ancient city walls, chic boutiques and plethora of cafes, bars and restaurants. With its famous twice-weekly outdoor market, Alcudia is a great place to explore the beautiful northern part of Mallorca, particularly the sparkling coastline and spectacular Tramuntana Mountains
It's a great town to explore too. Alcudia's ancient lanes are full of atmosphere and a 'must do' are the old city walls and fortified gates. In fact, the town is probably best discovered on foot as the best sights are all within walking distance. A stroll around town checking out the chic boutiques, trendy shops and café-bars and restaurants is a great way to make the most of your holiday stay here in Alcudia. You may also wish to hire a bike from one of the many good value cycle hire shops in the town.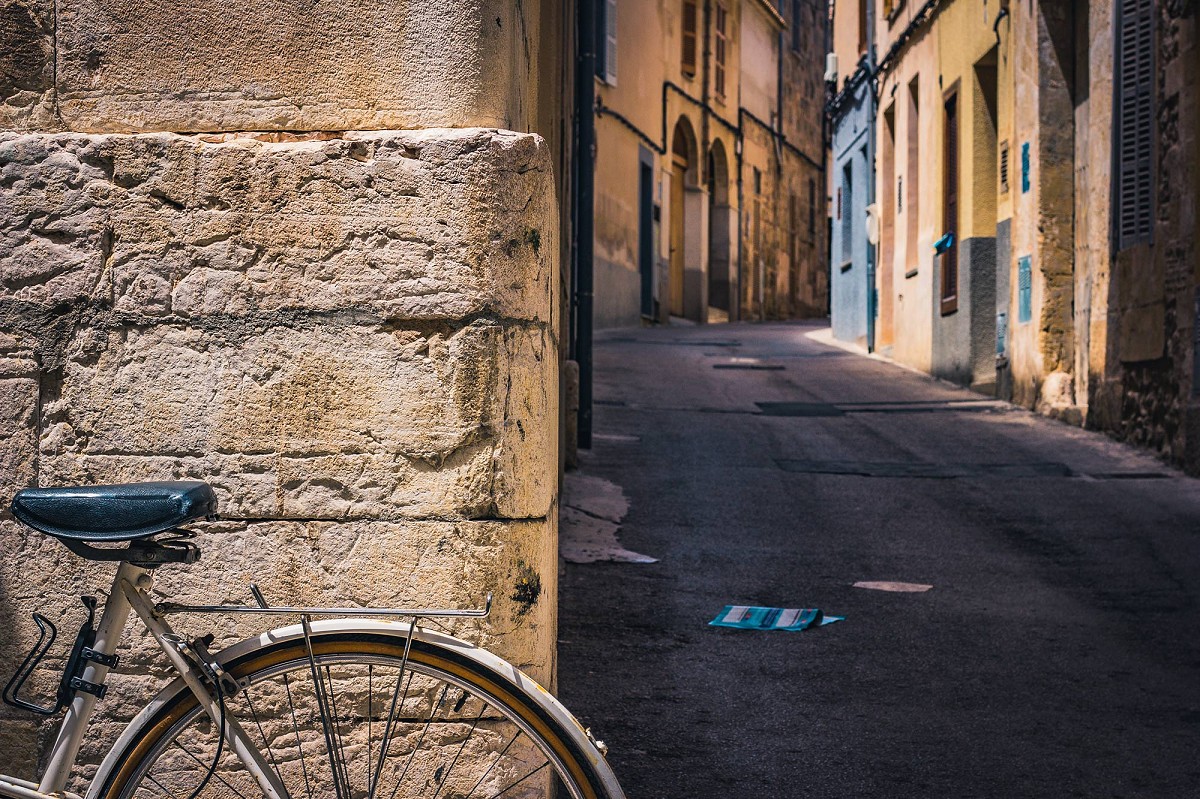 Beaches in Alcudia & Puerto Alcudia
The main attraction of Puerto Alcudia has to be its beautiful long, golden beach. At 14 kilometres in length, Puerto Alcudia beach, Playa Alcudia, is a massive draw for potential house hunters looking for their dream home. The calm, clear waters of Puerto Alcudia are absolutely ideal for swimming, diving and snorkelling. As you can imagine, you'll find a lot of watersports enthusiasts flocking to Puerto Alcudia. But even if watersports are not your cup of tea, Puerto Alcudia is a great place to rent a holiday villa that's on sale here, as many simply like to chill out at one of the many balnearios, Puerto Alcudia's popular seafront bars and cafes.
There is an attractive marina in Puerto Alcudia too, and cruise ships often call into the port. What's more, Puerto Alcudia is just a stone's throw from the gorgeous ancient walled town of Alcudia itself, a fabulous place to visit, especially on market day.
Whether it's a cool, contemporary villa, a traditional Alcudia townhouse or a cosy, modern apartment, we have a variety of holiday rental accommodation options for you to choose from. You are sure to find your ideal holiday home from home here at a good value price.
Great for Golf in Alcudia
Like golf? You'll love Alcudia! The stunning 18-hole Alcanada golf course owned by the famous Porsche family is widely regarded as not only Mallorca's finest golf course, but also one of the best in the whole world. It overlooks the Bay of Alcudia's crystal clear waters and is surrounded by attractive pine and olive groves. It's a challenging par-72, but the breathtaking location by the sea makes it all worthwhile. The clubhouse is an historic Mallorcan mansion; its terrace offering views to die for.
Imagine your next holiday in Alcudia
You've arrived in the picturesque old walled town of Alcudia late in the afternoon and the sun is shining. You unpack, take a quick look around your rented villa, and it's time to relax after your journey. So you gather friends and family round and open a nice chilled bottle of wine to share along with a few tasty nibbles. After a pleasant siesta, it's time to explore all Alcudia has to offer. As the sun sinks below the horizon, you take a stroll into the old town to look round some of the buzzing boutiques and stop by for a café con leche in one of the bustling pavement cafes.
It's pretty certain you won't be able to resist some of the excellent restaurants you'll find in town, particularly those serving up traditional Mallorcan cooking. So after a pleasant evening meal with wine you decide to drop into one of the bars to listen to some soothing live jazz. But it's been a long day so you choose to return to your holiday villa for an early night, because in the morning, the boat you've hired from the town's nearby port for a family sailing trip awaits. Just a little snapshot of a typical day in the norh of Mallorca!
How to get to Alcudia
Alcudia is just under 40 miles north of the capital. However, your journey from Palma's International Airport is extremely easy. If you are in a hire car, on exiting the airport, take the Ma-19 motorway going in the direction of Palma. Next join the ring road (Ma-20) that circumnavigates the capital exiting at junction 3B signposted Inca/Port d'Alcudia/Son Castello (Ma-13.)
Follow this road past Inca and it will take you directly to the old town of Alcudia. Once here, regular buses ferry you to Puerto Alcudia, Ca'n Picafort, Formentor, Pollensa, Puerto Pollensa, Soller and Puerto Soller. However, buses can be very crowded at times, particularly on market days, so get there early!
So whether you're looking to rent a fabulous holiday villa for family and friends, a delightful townhouse or a chic, contemporary apartment for a well-earned romantic break, we at Balearic Villas would be happy to help you find your dream rental property in the lovely Alcudia area of Mallorca.
One thing's for sure, as soon as you arrive at your holiday rental accommodation in Alcudia you'll immediately want to explore this beautiful town as well as the surrounding coastline and countryside.