Puerto Pollensa is a seaside resort with a lot to offer you and your family.
If you're looking for a holiday villa for rent in Puerto Pollensa, then the team at Balearic Villas has all the local knowledge and fantastic properties for you to choose from. They will carefully select your luxury villa to perfectly match your holiday requirements and make sure that you precious Puerto Pollensa holidays will be an experience, you will want to repeat again!
We recommend
Take a look at this selection of fantastic villas
Luxury villa rentals in Puerto Pollensa, Mallorca
We have many family holiday villas around the main attractions of Puerto Pollensa at a wide range of prices.
Pinewalk – a 2 mile pleasant, scenic pathway along the beach of beautiful pine trees that offer cool shade in the hot months of the summer. This is where Agatha Christie used to walk
Llenaire Beach – a family friendly beach. Restaurants are nearby and there are plenty of outfitters for fun water sports and activities.
Cycling – Majorca is a cyclist's paradise. In Puerto Pollensa you can easily rent reasonably priced bikes and explore the area.
Formentor – From Puerto Pollensa you can hire a boat or jump on the ferry and take a day trip to one of the most beautiful, remote places on the island.
The Square – The Plaza Mayor is home to Pollensa's 18th century church and the best Sunday market in Majorca.
Pollensa Old Town – A short drive by car or bike will find you in the "Old Town" which features an ancient Roman bridge, other historical landmarks and many shops and restaurants.
Boquer Valley – Hike the Tramuntana and discover a secluded beach in this magnificent valley
Puig de Maria – A short steep hike to the monastery you will find a stunning panoramic view of Puerto Pollensa, Alcudia, Formentor, and the Tramuntana mountains. Enjoy a paella at the top.
Yacht Harbour – dock your yacht in Puerto Pollensa and enjoy easy accees to the vibrant nightlife.
Childrens Playground – Located next to Llenaire Beach, your family can enjoy the shade and a playground that boasts climbing ropes and swings.
Museo Bennàssar – Former house of artist Dionis Bennasssar converted into an art gallery and museum. Located in the Old Town.
Covento Santo Domingo – Outdoor theater and classical music venue located in the ancient Cloister of Old Town Pollensa.
Calvario Pollensa – 365 steps leading up to the Mont-sion. Visit the shops and views on your way up. Don't forget to bring a bottle of water.
Cap Formentor – Visit Majorca's most northern point and lighthouse along one of the most scenic roads in the world.
Sailing, boating, adventure – Puerto Pollensa has one of the best harbors in Majorca for boat and sailing rentals.
Cala San Vicente – Don't forget to visit this quiet hidden gem tucked away in the cliffs of the Tramuntana. Family friendly beaches and great restaurants.
La Fortaleza – The most expensive and mysterious property in Majorca. Site of famous pirate landing from 1550. A place filled with a lot of history. Tours are available upon request.
A Quick Guide for Puerto Pollensa
We have many luxury family holiday villas around the main attractions of Puerto Pollensa at a wide range of prices. We are sure to have an accommodation in Puerto Pollensa to fit every purse. Pine walk apartments in Puerto Pollensa's most up-market area are also very popular holiday residences, holiday apartments in Puerto Pollensa central areas, in complexes with community pools are superb options, the selection is very broad in Puerto Pollensa.
Holiday villas in Puerto Pollensa
Puerto Pollensa is a seaside resort with a lot to offer you and your family. There is something for everyone. Holidays in Puerto Pollensa is a dream for art lovers with its huge impressive art collection spanning many museums and galleries. It is also a gourmet paradise, with an interesting selection of Majorcan restaurants and innovative fusion cuisine, a good reason why self catering in Puerto Pollensa is an option so that you can try these excellent locations out. The resort is well known for being family friendly and is home to several cyclist companies that rent nearly year round. It's the atmosphere that makes Puerto Pollensa so attractive with its lively buzz and good vibes.
You most definitely want to check out the nightlife. Explore everything that this special seaside gem in the Med. has to offer and stay in one of our reasonably priced villas. For a variety of accommodation options, browse through our modern family villas and luxury, intimate boutique villas. There is always something for everyone and every purse!
Discover the beach life in Puerto Pollensa
Yes, Puerto Pollensa is known for her wide range of family activities by the beach. Whether it's just simply splashing in the cool clean turquoise water of the Mediterranean with your kids or jetting off in a powerboat, Jet Ski or going on a fishing or sailing trip, there is something for everyone by the beach. It is also very conveniently located near restaurants, boutiques, live music, and your family villa rental. The best part of Puerto Pollensa is the winning combination of family fun at the beach and the vibrant energy of the nightlife. Alternatively you can always just relax in the lovely Puerto Pollensa villas with pools and enjoy being idle for a change!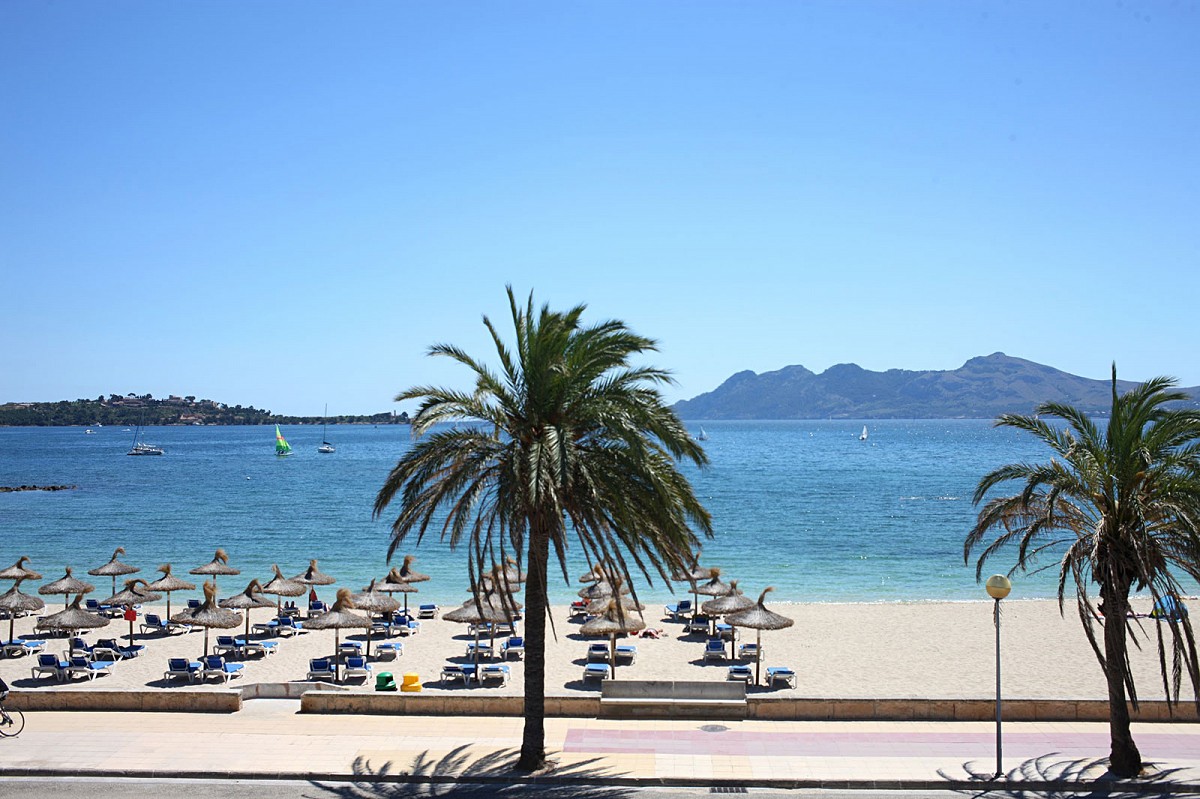 Nightlife in Puerto Pollensa
Puerto Pollensa's nightlife offers endless options for everyone in your family. Boutiques to window shop, restaurants and bars to watch your favorite football team, live music, lots of kids happily playing in the square. All located near each other and your family holiday villa. For the more adventurous, with a little bit of exploring you will also find numerous small intimate bars to enjoy music and have a drink. Live jazz is also very popular in Puerto Pollensa. Many of our holiday villas in Puerto Pollensa can be found in these areas, so you can choose the perfect place to stay.
The perfect stay in Puerto Pollensa
Here is a snapshot memory of a typical, blissful day renting a villa in Puerto Pollensa. Once you arrive from the airport at your holiday villa during the lazy languid late afternoon and get settled, friends will have a gathering to share a few glasses of wine, beer and tapas. As the sun sets, you all take a nice relaxing stroll along the Pine Walk, stop for a drink and listen to some live music. At about 10PM you all decide to have dinner at a typical Majorcan restaurant. This is Spain and you are fitting in well with the pace of life. After dinner, you may decide to continue to the various clubs and bars for dancing, or you may call it an "early" night because you want to go on a fishing trip tomorrow alone or with the family. From there you will be able to choose your own adventure in Puerto Pollensa. There are so many possibilities and your holiday villa is always just around the corner.
Getting there
The main airport is Palma de Mallorca airport and it is 35 miles from Puerto Pollensa. There are numerous transportation options to get to Puerto Pollensa. There are many reputable car rental bureaus at the airport and also very inexpensive coach bus services at the airport.
Getting around Puerto Pollensa is very easy. Everything is nearly walking distance. The restaurants, shops, bars and supermarkets are all in walking proximity. There is a very active and convenient taxi stand by the harbour. There is also a shuttle ferry that can transport you to Formentor and Port Alcúdia for day trips.
Once you arrive at your holiday villa in Puerto Pollensa, you will find it easy to get around.