Pollensa is a pretty fabulous place to enjoy your treasured villa holiday.
If you're looking for a holiday villa in Puerto Pollensa or apartment to rent in Pollensa old town, then the team at Balearic Villas has all the local knowledge and fantastic properties you could ever need. They will carefully select your luxury villa to perfectly match your holiday requirements. Villas to rent in Majorca have always been high on the holiday list and the Pollensa area is one of the most popular regions, also thanks to the stunning landscape with the dramatic mountain range as a backdrop.
We recommend
Take a look at this selection of fantastic villas
Luxury villa rentals in Pollensa Mallorca
Once you have decided that Pollensa is the perfect area for you to spend your vacation in a luxury villa, all you need to do is make a list of essentials; things that will make your Mallorcan break perfect. Let us know exactly what you expect your villa in Majorca to be like and what we are to provide for you, your holidays are the most precious days of the year so you deserve only the best! You will find out that luxury villas in Mallorca are exactly that: luxurious and match the whims and wishes of even the most spoilt. Check out the Pollensa area first on our website if you are not very familiar with the island and make a detailed note of your requirements.
Then consult our Pollensa villa rental experts to find your perfect match from our portfolio of exclusive luxury villas in Pollença. We boast the broadest selection for you to take your pick from, those seeking peace and quiet can relax in a fabulous country property on the outskirts of town, or why not spend your holidays in a Pollensa town house with pool and enjoy the local scene. Pollensa town has a lot to offer and not many can resist its charm! Majorca holidays are simply not complete without exploring the historic sites and art galleries in Pollensa old town, or sampling the culinary delights in one of the excellent restaurants surrounding the famous market square.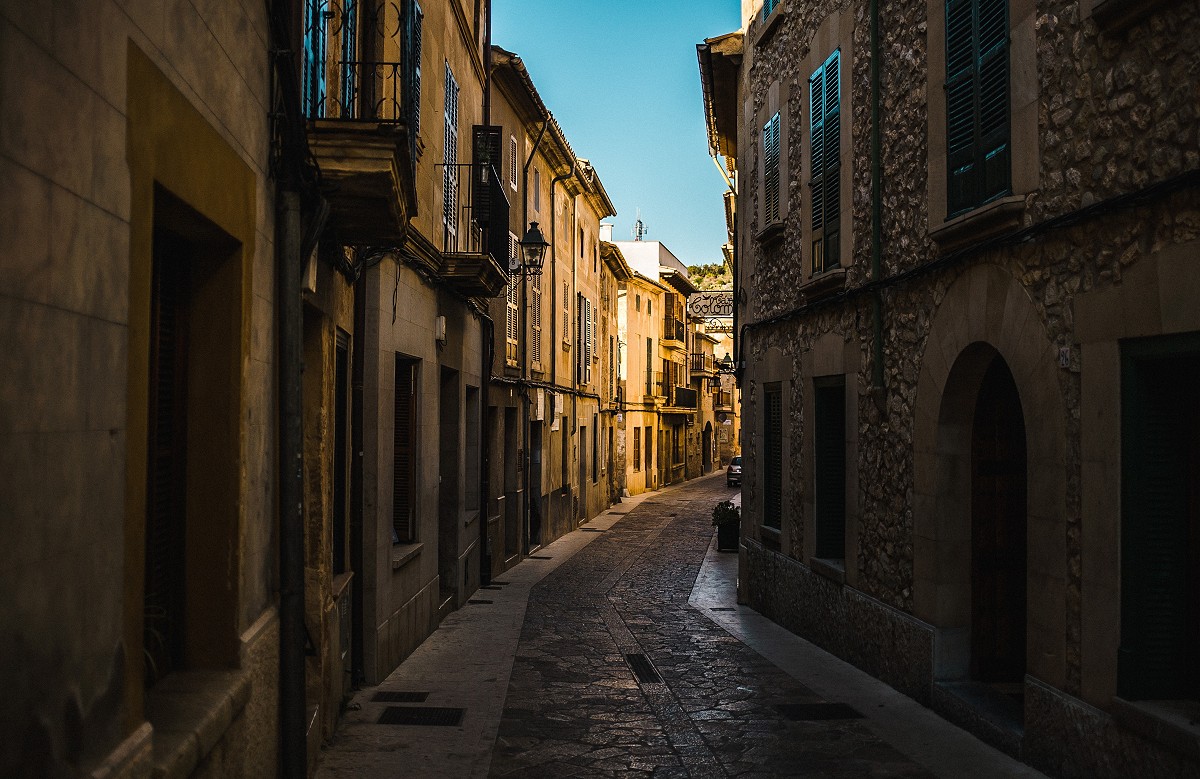 Pollensa is a pretty fabulous place to enjoy your treasured villa holiday.
It's no coincidence it has been named the happy town. Pollensa has a laid back ambience that appeals to families, groups holidaying together in a family villa or indeed that special romantic break. Life has its own clock here in Pollensa town, why rush when you can move at a gentler pace, after all that's also what holidays are all about. The rushing around is for every day life back home! Pollensa's social scene is very international and the locals love mixing with people from all over the world. Spend some time loitering with a coffee on the market square and count the different languages you hear – amazing! There is a reason that Pollensa has produced many talented and famous artists, just walk around town and discover the galleries to get an impression of just how important this relatively small town is in the international art scene. Culture plays a very important part in Pollensa, every summer is hosts the famous festival of classical music and, again, musicians from all over the world are delighted to participate.
The town is graced with pretty Spanish streets, leading to smart squares full of cafes and restaurants where you can still enjoy a "menu del dia" for a very reasonable price. The local shops sell quality souvenirs and locally made ceramics chic enough to decorate the finest table. What you won't find in Pollensa are tacky gift shops. Pollensa is far too well heeled for that and attracts a different type of holiday-maker.
Perhaps the most famous landmark of Pollença is the Calvari hill with the charming chapel at the top. There are 2 ways to get up this hill, either via the "Via Crucis" (way of the cross), a road displaying the 12 stations of the cross or the more energetic can take the 365 steps lined with ancient cypress trees up the hill. The chapel is the scene of Good Friday's famous procession the "Devallment", which attracts thousands of visitors each year. Once you have arrived at the top of the Calvari, you will be rewarded for your efforts with breath taking views over Pollensa's surrounding countryside and the bay of Pollensa.
In days gone by when Arab pirates and invaders posed a terrifying threat to the coastal towns, the locals took refuge in Pollensa. Therefore, in August every year, the town re-enacts a battle that took place in 1550 when Arab pirates invaded Pollensa and the brave inhabitants, although caught in their sleep, managed to defeat them with their rudimentary tools and weapons – whatever was available! This battle between the Moors and the Christians, as it is called, is the highlight of Pollensa's fiesta week in honour of its patron, the Virgin Mary, mother of Angels who the inhabitants appealed to for protection before the historic battle. Pollensa may be inland a little from the coast but it's only a short hop to the coast and beaches in Puerto Pollensa.
Balearic Villas has a great selection of exclusive villa rentals in and around Pollensa like for example in the bay of Formentor, with a good range of villa rentals available for your perfect holiday in Pollensa, Mallorca. Whether you are looking for something to cater for 10 people with every convenience and a private pool, or something smaller for a family within walking distance of the town, we are here at your service. We are confident that we can offer you the broadest selection of best villas in Pollensa, with holiday villas to accommodate all holiday expectations.